The name "eyos" stand for the phrase "Edit Your Own Site". The name was given to the content management system (CMS) which was built by Computer Services to help stockton staff members easily maintain the official pages of the College website.


The eyos system is a web application built in the Cold Fusion scripting language with an SQL server as a database backend.
All the text content typed into eyos is directly entered into a database, no actual files are created. This is the reason Eyos websites tend to have long addresses or URLs. A typical page in eyos will have an address resembling this format: http://intraweb.stockton.edu/eyos/page.cfm?siteID=60&pageID=1
Each separate website in eyos is given a unique SiteID. The PageID specifies which page in that site you are viewing. Because the website addresses can appear lengthy, a single redirect address is often created for each website. The redirect address redirects users to the first page of your website. For example, the redirect url for the eyos address mentioned above is: http://www.stockton.edu/internalaudit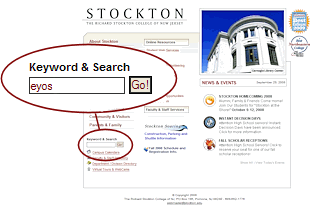 Access to the eyos login is available by entering the word eyos into the Keyword and Search section of the Stockton Home Page.
Additionally, you can access the eyos administration at http://intraweb.stockton.edu/eyos