Students (Fall 2012)
8,400 full- and part-time undergraduate and graduate students
1,003 first-time freshmen
1,067 new transfer students
Academic Degrees
Degrees offered: BA, BS, BFA (Bachelor of Fine Arts), MA, MS, MBA, DPT (Doctor of Physical Therapy)
Faculty
Noted for our distinguished faculty, including Stephen Dunn, winner of the 2001 Pulitzer Prize for Poetry, and Wendel A. White, awarded a Guggenheim Fellowship in 2003
94% of our professors hold the highest degree in their field
Facilities
Special Recognition
Ranked once again in the first tier of the Best Universities/Master's in the North (America's Best Colleges for 2013) by U.S. News and World Report, Stockton is now among this category's top 50 (47th) and among the top-15 public institutions (11th place).
Classified as a "highly selective college" by the Princeton Review.
Environmental Studies and Marine Science programs were selected by Peterson's Guides and the Alliance for Environmental Education for inclusion in Education for the Earth: A Guide to Top Environmental Studies Programs.
The Sara & Sam Schoffer Holocaust Research Center fosters research in holocaust studies to honor victims and survivors of the Holocaust, and to educate present and future generations in understanding racism, anti-Semitism, hatred and oppression.
---
Stockton College is conveniently located just minutes from shore resorts, one hour from Philadelphia, and two hours from New York City!
Richard Stockton
The Richard Stockton College of New Jersey is named in honor of one of the 56 signers of the Declaration of Independence.
Spotlight On:
The Campus Center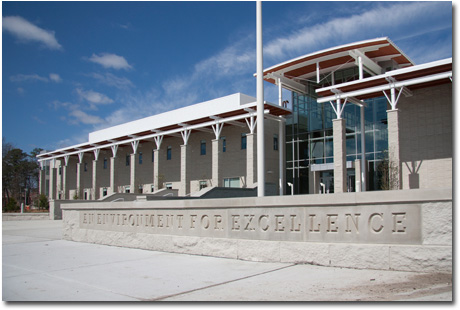 Student services
Theater and meeting space
Eateries you know and love