Understanding Your Pay Stub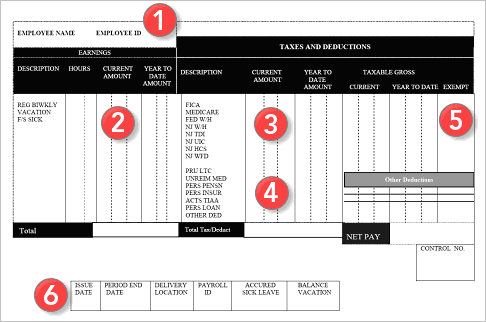 BOX 1 Employee Information.
This box displays your name, and employee ID. If your social security number is not correct, please notify the Payroll Office immediately.




BOX 2 Hours and Earnings.
This box displays your compensation information. The most common earning type is "Regular Biweekly." Other common earning types are:
Vacation Leave

Sick Leave (F/S Sick)

Admin Leave (Personal)
OT REG (1.5 x hourly rate)

Part Time Perm

Temporary

College Work Study

Student Worker

Court Duty

Furlough

BOX 3 Taxes
This box reflects federal, state, and local income tax withholding as well as Social Security withholding. Tax law requires us to display the two components of Social Security taxes: Medicare and FICA.

The most common tax withholdings are:
FICA - Federal Insurance Contribution Act (Social Security)
MEDICARE FICA - Part A

FED W/H - Federal Withholding Tax

NJ W/H - NJ Withholding Tax

NJ TDI - NJ Temporary Disability Insurance

NJ UIC - NJ Unemployment Insurance Compensation

NJ HCS - NJ Health Care Subsidy (Portion of Disability Insurance)

NJ WFD - NJ Work Force Development (Portion of Unemployment Insurance)

BOX 4 Employee Benefits
This box reflects the employee's cost of benefits including health insurance, life insurance, long term disability, retirement, union contributions, and charity donations as well as credit union deductions, savings bonds, and vision care reimbursement.
See Pension and Benefit Section for further details.




BOX 5 Employee Federal and State Tax Withholding Status.
This box provides information about your federal and state tax withholding status based upon the W-4 form that you filed. Your status, in conjunction with payroll withholding tables, determines your federal and state income tax withholding reported in Box 2. If you claim an allowance of 1 or more, you will see the number in this column. If you want to file differently for state withholding, you will need to complete a NJ State W-4 form. W-4 forms can be updated at any time.

Special withholding rules apply to foreign nationals. Contact Payroll at (609) 652-4386 for more information.




BOX 6 Leave Balances.
This box reflects the employee's time balances projected to the end of the year, depending on when your new time balances are updated. All employees except managers are updated in January. Managers are updated in July.

ISSUE DATE - Pay day

PAY PERIOD END DATE - Last day of Pay Period

DELIVERY LOC - Department

PAYROLL ID - Pay period Identification number

ACCRUED SICK - Projected hours to be earned

BALANCE VAC - Projected hours to be earned


Payroll Office
Location: Human Resources, J112
Office Hours: Monday - Friday 8:30AM - 5:00PM
Summer Office Hours: Monday - Thursday 8:00AM - 5:15PM
Telephone #: (609) 652-4386 FAX #: (609) 626-5573