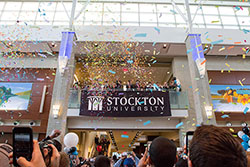 Stockton University held a campus-wide celebration in the Campus Center on Feb. 18 following the Stockton Board of Trustees' vote to change Stockton's official designation and name from that of a college to a university.
Stockton University students, faculty, staff and special guests eagerly watched President Herman Saatkamp, Board of Trustees and staff, standing on the balcony of the Campus Center, slowly unveil a large banner with the new university logo.
The crowd erupted into cheers as confetti drifted during the historic festivities. In between balloons, a sea of cameras and phones captured the first glimpse of the university's new identity. A special video made for the occasion was aired and attendees received baseball caps with the new logo.
The new name and designation reflect Stockton University's evolution as a distinguished institution of higher education and recognize Stockton's growing academic programs of excellence at the baccalaureate, master's and doctoral levels.
"Since its founding in 1969, Stockton has had many names, but one consistent mission: excellence in teaching, dedication to learning, and a tradition of community service," said President Saatkamp. "In becoming a university, we honor those values while continuing our journey as an environment for excellence and a partner in New Jersey's social and economic development."
The change was approved by Rochelle Hendricks, New Jersey Secretary of Higher Education, after research and study by her office and outside consultants, who visited the campus and recommended that Stockton be recognized as a comprehensive university. The Executive Committee of the New Jersey Presidents Council, made up of the presidents of the state's public, private and community colleges and universities that receive state aid, also voted for the change.
"It was with pleasure that I signed a letter approving Richard Stockton College's petition to be granted university status and to change its name to Stockton University," said New Jersey Secretary of Higher Education Rochelle Hendricks. "I congratulate the new university and know it will continue its strong commitment to academic excellence."
Stockton had met the requirements to be designated a university for over five years and already was classified as such by the Middle States Commission on Higher Education, the Carnegie Foundation for the Advancement of Teaching, U.S. News and World Report and The Princeton Review.
"The Board of Trustees is very pleased that the New Jersey Secretary of Higher Education recognizes Stockton's academic achievements in designating the college now as Stockton University," said Dean Pappas, chair of the board. "We are very proud of this milestone. We will continue to focus on providing the best possible education for our students in the most effective manner."
Click here to access the video and webpage highlighting this historic step in Stockton University's distinctive history.