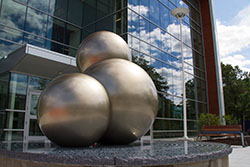 Through a new agreement between Stockton and Rowan University, students will be able to earn dual Bachelor of Science degrees from Stockton's School of Natural Sciences and Mathematics, and Rowan's College of Engineering.
As part of the five-year program, qualified students would attend Stockton for the first three years and then spend two years at Rowan. The program gives students the opportunity to experience a liberal arts institution in their first three years and then move into a career-oriented engineering sequence.
Students would receive a Bachelor of Science degree in Chemistry, Mathematics, or Physics from Stockton after the fourth year, and a Bachelor of Science degree in Biomedical, Chemical, Civil, Electrical and Computer, or Mechanical Engineering from Rowan at the completion of the program.
"Science, Technology, Engineering and Mathematics (STEM) are increasingly the key to jobs in education and industry in our global economy," said President Herman Saatkamp. "This agreement offers students the opportunity to increase the value of their education while reducing the cost by receiving degrees from two prestigious New Jersey institutions of higher learning."
It is anticipated that student enrollment in this program will begin in September 2015.