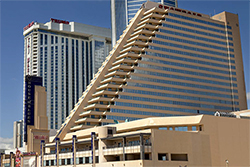 Stockton announced on Dec. 12 that it has acquired Showboat Atlantic City and will transform the 1.73-million-square-foot site into an island campus designed to spur economic and community development and help prepare Atlantic City's workforce for the jobs of the future.
Towers 2 and 3 at the Stockton-Island Campus will include student housing, dining, parking and recreational facilities. The property will likely continue to operate as a hotel, with 479 rooms in Tower 1 available for guests, along with retail and restaurant amenities.
Stockton intends to work with city, state, and county officials and the Casino Reinvestment Development Authority (CRDA) to develop a University Park neighborhood around the campus that will encourage entrepreneurship and support businesses.
"As our campus has expanded so too, has our commitment to enhance the knowledge, economy and workforce of the local and regional society. Our goal is to provide our students with opportunities to gain valuable hands-on experiences in the field, and facilitate economic and social change in Atlantic City," said President Herman Saatkamp. "Stockton-Island Campus and University Park will be an academic community of professionals, students and support staff that will enhance Atlantic City's culture and economy."
The college expects to have the hotel portion of the Island Campus operating by late spring 2015, with some summer session classes to follow. Full academic programs are expected to begin in fall 2015.
For answers to Frequently Asked Questions, visit Stockton-Island Campus FAQs.
For additional information, visit Stockton-Island Campus and University Park Showboat Higher Education Proposal.