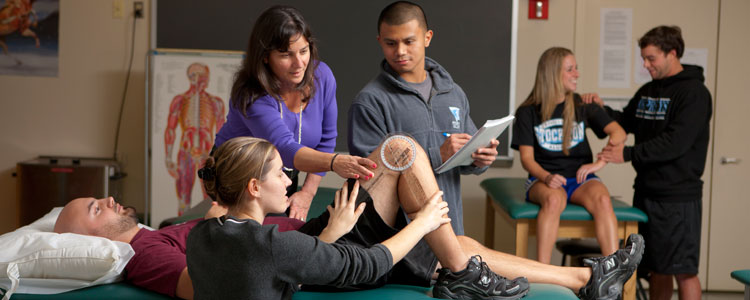 Our Program ♦ Curriculum ♦ Prerequisite Requirements
♦ Program Website ♦ Program Brochure ♦ Handbook ♦ FAQ

Physical therapy (PHTH) is a health care profession devoted to optimum health and function. Physical therapy improves and maintains an individual's ability to move and assists in the prevention of movement disorders. Physical therapists work directly with patients and clients of all ages. They conduct evaluations to identify and then resolve problems and potential problems. Typical problems addressed by physical therapists include impaired movement, pain, and compromised ability to carry out daily activities. Physical therapists may choose to work in a variety of settings including private practice, acute care and rehabilitation hospitals, nursing homes, industry, private home therapy, school systems, and athletic programs.
We invite college undergraduate applicants and applicants who already hold a baccalaureate degree to apply to the program. Our DPT Program is three (3) years.
---
The Physical Therapy faculty are an impressive group devoted to our students and the profession of Physical Therapy. Collectively, we are a professionally and personally diverse group who are well renowned at a national, state, and local level. We have vast clinical expertise in all major areas of practice. Faculty conducts research on an ongoing basis and routinely present and publish work in collaboration with our students. The faculty are dedicated educators and highly accessible. In addition to our full-time physical therapy faculty members, many other professionals contribute to the program, including physicians, basic scientists, and other health care professionals.
The curriculum is contemporary and innovative. Students learn in small class sizes in well-equipped classroom facilities. They have ongoing patient contact in the program such as patients visiting the classroom and regular trips to local clinics including two (2) on-campus hospitals. Additionally, there are three (3) full-time clinical experiences. For optimal learning, the full-time clinical experiences are scheduled at key times throughout the curriculum. Clinical experiences are concentrated in the mid-Atlantic region with additional sites outside the area.
As a school within the New Jersey system of Higher Education, every effort is made to maintain the affordability of the program. Many students are awarded Stockton Graduate Assistantships that permit exciting learning experiences such as working in clinics and conducting research. Students can also apply for internal and external scholarships.
Graduates of the program are our ambassadors. Click here for our impressive PT license exam pass rate and graduation rates for the past three years. Our graduates are routinely employed within six months of passing the licensure examination, most within weeks.
---
Prerequisite Courses- Must be completed with a minimum grade of "C" or better by the spring semester of the year of your application to the DPT program.
Biology- One year of general biology with labs (BIOL 1200/1205 and BIOL 1400/1405 or equivalent)
Chemistry- One year of chemistry with labs (CHEM 2110/2115 and CHEM 2120/2125 or equivalent)
Physics- One year of physics with labs (PHYS 2110/2115 and PHYS 2120/2125 or equivalent)
Anatomy/Physiology- One year of anatomy and physiology (A&P I and A&P II) with labs (BIOL 2150/2151 and BIOL 2180/2185 or equivalent) OR one course in anatomy with lab (BIOL 2150/2151 or equivalent) AND one course in physiology with lab (BIOL 2180/2185 or equivalent)
Psychology- General Psychology or Introduction to Psychology (PSYCH 1100 or equivalent)
*Students applying to meet the fall admission deadline may have no more than 2 prerequisite courses to be completed in the following spring semester. Admission to the DPT Program will be contingent on successful completion of these courses no later than the end of the spring semester.
For Stockton course descriptions, please visit The College's Course Catalog.
In addition to completion of the above prerequisite courses, applicants must have:
an overall GPA of at least 3.0 or above (based on a 4.0 scale);
completed a minimum of 64 credit hours of undergraduate education at a regionally accredited college or university at the time of application.
a minimum of 80 hours of physical therapy field experience (observation, volunteer or work experience);
completed the GRE (official GRE scores are mailed directly to PTCAS. Visit www.PTCAS.org for more details);
Must meet the "Technical Standards and Essential Functions" for the DPT Program.
---
DPT Curriculum Worksheet- 115 credits

Effective academic year 2015-2016 beginning with Class of 2017

Credits for Doctor of Physical Therapy Degree: Undergraduate 12; Graduate 103 (Total of 115 credits)

Year 1- Fall Semester
Year 1- Spring Semester
BIOL 4230 Neuroscience
(4)
PHTH 5001 Kinesiology/Basic PT Evaluation
(4)
BIOL 4231 Neuroscience Lab
(1)
PHTH 5020 Pathology
(7)
BIOL 4150 Advanced Human Physiology
(4)
PHTH 5112 Community Wellness
(2)
PHTH 5010 Human Gross Anatomy
(4)
Additional undergraduate courses toward a baccalaureate degree if needed
Statistics (only if not completed previously)
(3 or 4)
Additional undergraduate courses toward a baccalaureate degree if needed
All students must hold a baccalaureate degree by the end of this semester
Total Semester Credits
(16-17)
Total Semester Credits
(13)
Summer Session- 6 weeks - (May and June): PHTH 5500 Musculoskeletal PT I (7 credits)

Year 2 - Fall Semester

Year 2- Spring Semester

PHTH 5510 Musculoskeletal PT II
(7)
PHTH 5530 Musculoskeletal PT IV
(7)
PHTH 5600 Evidence Based Practice I
(3)
PHTH 6520 Cardiopulmonary PT
(7)
PHTH 5615 Community Wellness Practicum I
(1)
PHTH 5610 Evidence Base Practice I
(3)
PHTH 5520 Musculoskeletal PT III
PHTH 6805 Pre-Clinical Experience II
(1)
PHTH 5805 Pre-Clinical Experience I
(1)
PHTH 6610 Physical Therapy Management
(2)
Total Semester Credits
(19)

Total Semester Credits
(20)
Summer Session- 10 weeks - full-time off-campus: PHTH 5810 Clinical Experience I (5)

Year 3- Fall Semester

Year 3- Spring Semester

PHTH 6500 Neuromuscular PT I
(7)
Semester begins during winter break. First 10 weeks:
PHTH 6510 Neuromuscular PT II
(7)
PHTH 6810 Clinical Experience II (10 weeks full-time off-campus)
(5)
PHTH 6615 Community Wellness Practicum II
(1)
Last 6 weeks of semester (on-campus):
PHTH 6815 Pre-Clinical Experience III
(1)
PHTH 6630 Other Systems
(7)
PHTH 6650 Issues in Health Care
(2)
Total Semester Credits
(16)
Total Semester Credits
(14)
Summer Session- 10 weeks- full-time off-campus: PHTH 6820 Clinical Experience III (5)
---
Apply today. If you have further questions, Request More Information, view Frequently Asked Questions, visit the Physical Therapy Program Web site, or please call the Graduate Admissions Office at (609) 626-3640 or E-mail gradschool@stockton.edu.