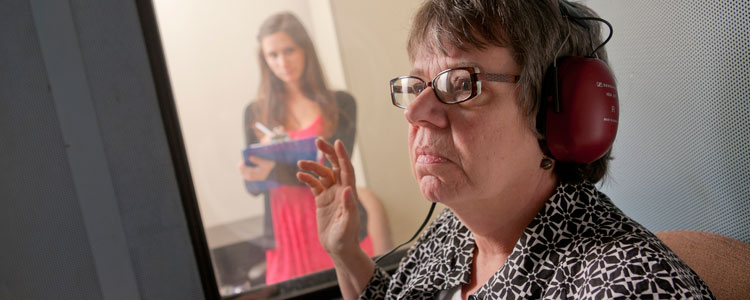 Curriculum ♦ Admissions Requirements ♦ Clinical Hours ♦
Communication Disorders Preparation ♦ FAQ ♦ Program Handbook ♦ Program Website

Dear Prospective Students:
The mission of the Master of Science in Communication Disorders Program is to prepare students for licensure and certification in speech-language pathology, contribute to scholarly work in the discipline, provide opportunities for continuing education, and offer direct services to the surrounding community.
The Master of Science in Communication Disorders Program (MSCD) at Stockton University has a curriculum designed to prepare program graduates for certification as speech-language pathologists by the American Speech- Language Hearing Association (ASHA) and for certification as Speech-Language Specialists in the New Jersey Public Schools.
The program requires completion of 60 graduate credits. As the program faculty feel that a background in research skills is necessary for evidence-based practice, a Master's Thesis is optional.
The Master of Science in Communication Disorders program at Stockton University is a Candidate for Accreditation by the Council on Academic Accreditation in Audiology and Speech-Language Pathology (CAA) of the American Speech-Language-Hearing Association. This is a "pre-accreditation" status with the CAA, awarded to developing or emerging programs for a maximum period of five years.
---
Curriculum

Year 1- Fall Semester
Year 1- Spring Semester
CMDS 5310 Disorders of Phonology
CMDS 5110 Neurological Bases of Communication
CMDS 5125 Advanced Clinical Methods
CMDS 5220 Language Disorders in School-Aged Children and Adolescents
CMDS 5120 Language Disorders in Young Children
CMDS 5410 Diagnostic Methods
CMDS 5101 Clinical Observation Lab if needed
CMDS 5201* Clinical Practicum I (on campus)
Year 1- Summer Session
CMDS 5420 Audiology
CMDS 5201* Clinical Practicum I (on campus)
Elective (CMDS 5470 or other approved elective)
Year 2- Fall Semester
Year 2- Spring Semester
CMDS 5201* Clinical Practicum I (on campus)
CMDS 5301 Clinical Practicum II
CMDS 6110 Research in Communication Disorders
CMDS 6210 Acquired Adult Language
CMDS 6430 Dysphagia
CMDS 6120 Thesis I or Approved Elective
CMDS 6440 Motor Speech Disorders
Year 2- Summer
CMDS 5450 Disorders of Voice
CMDS 5460 Disorders of Fluency
Year 3- Fall Semester
CMDS 6450 Communication Disorders in Culturally and Linguistically Diverse Populations
CMDS 6130 Thesis II or Approved Elective
CMDS 5401 Clinical Practicum III

*Students may enroll for Clinical Practicum I: Spring I, Summer I, or Fall 2 semester according to the plan developed with their preceptor. Students may also enroll in Clinical Practicum II or III during the second summer.
For course descriptions, please visit The University's Course Catalog.
---
Prerequisite Coursework
Prerequisite coursework includes the following courses or equivalents (grade of "C" or better). Some of this coursework can be completed through the Communication Disorders Preparation program:
Phonetics: CMDS/HLTH 1101 or CMDS 5101
Speech Science: I CMDS/HLTH 1102 or CMDS 5102
Speech Science II: CMDS/HLTH 1103 or CMDS 5103
Language Acquisition: CMDS/HLTH 2115 or CMDS 5115
Introduction to Communication Disorders: CMDS/HLTH 2119 or CMDS 5119
Applicants must also document a grade of "C" or better in a course in:
Biology (e.g. BIOL 1200, HLTH 2221)
Physical Science (e.g. A course dealing primarily with the principles of physics, chemistry, astronomy, or geology).
Statistics
Social Science (e.g. a course in psychology or sociology)
Application Process
The application process into Stockton's MSCD program is two-fold. You must submit an application through the Communication Sciences and Disorders Centralized Application System (CSDCAS) as well as through Stockton's Online Supplemental Application-CAS. Program specific admissions information including prerequisite course requirements can be reviewed on the CSDCAS Stockton Profile page.
Your Application to the CSDCAS application should include:
Official Transcripts from all schools attended (including Stockton)
Three letters of recommendation
Essay, resume, observation hours, and any other additional information
For details please visit www.csdcas.org.
Official GRE Test Scores sent directly to CSDCAS (school code: 3872).
Your Stockton Online Supplemental Application-CAS should include:

Online Supplemental Application-CAS (you must create WebID and Pin)
Signature Page along with the $50 non-refundable application fee (this is an addition to the CSDCAS fee) which can be retrieved once you submit Stockton's Online Supplemental Application-CAS (scroll to the bottom of this page to begin your Stockton Online Supplemental Application-CAS).
Educational Background Form (click here for the form)
Please click on the "Graduate Programs" link on the left navigation menu for additional information and links forms.
---
All Master's degree candidates must complete 400 clinical hours of supervised clinical experience. Of these 400 hours, 25 must be in supervised observation. Per ASHA policy, at least 325 of the 400 clinical hours must be completed at the graduate level. Students will receive clinical experience both on campus at Stockton's Speech and Hearing Clinic and off campus in various clinical placements. Students will be able to graduate having had a variety of clinical experiences.
Students must enroll full-time in the MSCD Program. The requirements are demanding but the outcome is rewarding.
Apply today. If you have further questions, Request More Information, view Frequently Asked Questions, visit the MSCD Program's Web site, call the Graduate Admissions Office at (609) 626-3640 or E-mail gradschool@stockton.edu.