Stockton Classified Among Elite Colleges in Civic Engagement by Carnegie Foundation
The Richard Stockton College of New Jersey has been selected for the prestigious Community Engagement Classification as compiled by the Carnegie Foundation for the Advancement of Teaching.
The Foundation, best known for its classifications based on curricular and research mission, began its relatively new Civic Engagement Classification in 2006. It uses an elective process in which colleges and universities apply and submit evidence that they have met the organization's criteria for selection. More than 300 institutions applied this year. Stockton was among the 115 selected nationwide as "Community Engaged Institutions."
"Stockton has a longstanding commitment to civic engagement as one of the core elements of our teaching and learning processes," said Dr. Harvey Kesselman, Provost and Executive Vice President. "It is gratifying to have been recognized by an organization as well respected as the Carnegie Foundation. President Saatkamp, our Board of Trustees, faculty, students, administration and staff have embraced practices and programs that advance civic engagement."
In addition to weaving events and activities designed to engage students and community members throughout its curriculum, Stockton hosts such institutes and organizations as the William J. Hughes Center for Public Policy; the Lloyd D. Levenson Institute of Gaming, Hospitality and Tourism (LIGHT); the Stockton Center on Successful Aging (SCOSA); the Southern Regional Institute and Educational Technology Training Center (SRI & ETTC); and the Sara and Sam Schoffer Holocaust Resource Center.
Its student-centered engagement initiatives include one of the nation's first AmeriCorps service learning initiatives, the Stockton Center for Community Schools, which places college resources at the disposal of local school districts and student organizations such as Stockton Action Volunteers for the Environment (SAVE), one of the nation's first student organizations devoted to environmental sustainability.
The Foundation noted that the selected schools had demonstrated strong institutional alignment across leadership, infrastructure, strategic planning, budgeting, faculty teaching and community partnerships. "Although there remains room for growth and improvement–which we strive for, Stockton has clearly demonstrated a leadership role in all of these aspects of community engagement," Kesselman said. "We are proud of the designation and will continue to live up to it each and every day."

---
Council of Black Faculty and Staff Annual Dinner Benefits Scholarships
The Council of Black Faculty and Staff at The Richard Stockton College of New Jersey hosted its 29th Annual Awards Dinner and Dance recently at the Carriage House in Galloway. Since its inception more than a quarter of a century ago, the Council of Black Faculty and Staff has worked to expand the opportunities available to Stockton's diverse community.
The Council has awarded more than $220,000 in scholarship money to deserving Stockton students since 1981. This year the Council awarded nine $1,000 scholarships, one of which was named in memory of Annette Thorpe, a former Stockton staff member, and awarded to Phillip Bennett.
This year's honorary chairperson was Stockton's Provost and Executive Vice President, Dr. Harvey Kesselman. The following award recipients were honored for their contributions, which are making a difference both locally and internationally.
• Lifetime-Achievement Recipient–Dr. David Carr
• Merit Award Recipient–Ms. Yuberky Pena
• Distinguished Stockton Alumna–Dr. Agathe Franck, M.D., '02
| | | |
| --- | --- | --- |
| | | |
| From left, Earl Nelson, a Stockton alum, Harry Maurice, Assistant Director of Student Development, and Nick White, a Stockton graduate and a former Alumni Association president. | | Yubi Pena, this year's Merit Award Recipient, is pictured with her family. Surrounding Yubi from the left are her daughter Melissa, her daughter Jessica, a staff member in Stockton's School of Graduate and Continuing Studies, her son Edwin, her fiancé, Neil Allen, and her daughter Elisha. |
Gerry Matthews, Stockton's Men's Basketball Coach, Wendel White, Distinguished Professor of Art, and Mr. Kenneth O'Reggio '92, a member of the Richard Stockton College Foundation Board of Directors, were recognized for their dedicated service to the College and community. Henry Glickel of Sales Recruiters, Inc., provided corporate sponsorship of the event.
---
Dr. Saatkamp a "Person of the Year" as Named by SNJ Business People Magazine
Stockton President Dr. Herman J. Saatkamp, Jr., is among an elite group of southern New Jersey business people named "People of the Year" by SNJ Business People magazine. A panel of the publication's readers voted to select the 15 recipients (there were three "joint entries" recognized).
The publication lauded Dr. Saatkamp for his work at the College and in the community, mentioning his chairmanship of the South Jersey Chamber of Commerce and the NextGen Aviation Research and Technology Park in Egg Harbor Twp. "(He is) also the man who put Stockton in the hotel business with the purchase of the four-star Seaview Resort," the publication noted.
---
Stockton Grad's Book Published, Lauds Provost as Role Model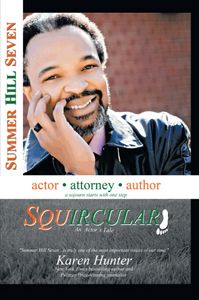 Stockton graduate Summer Hill Seven's latest book, Squircular!: An Actor's Tale, the third in a trilogy, was recently published, and the author is on a tour promoting the work, which highlights some of his experiences at the College.
Born Raymond Bernard Larkins, Seven is a writer, a director, an actor and one of the first authors to employ the new and innovative literary genre called "poemedy."
According to Seven, the form creates a balanced blend between poetry and comedy. A poemedy is a seven line poem in which each line contains seven syllables. Seven calls himself the "founder of the poemedy movement."
Squircular is a poemedy memoir that incorporates "essalogues," a combination of the traditional essay with a monologue, in addition to 49 sections of poemedy. Seven says that the word squircular is his "poetic response" to two paintings, a circle and a cube.
Karen Hunter, a New York Times bestselling author and Pulitzer Prize-winning journalist, said, "Summer Hill Seven…is truly one of the most important voices of our time."
Seven's original approach and use of poemedies are the "heart of the book," he said. "Poemedy recognizes that every syllable uttered by humans is in fact a poem."
Seven's first mentor in college was Stockton's current Provost and Executive Vice President, Dr. Harvey Kesselman. Seven, whose name was Alim Akbar during his years at Stockton, met Kesselman at age 18. He was a student in the Educational Opportunity Fund (EOF) program, which Kesselman directed at the time. The EOF program provides disadvantaged students opportunities to excel academically.
According to Seven, Kesselman "took notice of the fact that I was excelling in the rigorous [EOF] program while faithfully adhering to the requirements of Ramadan, the Islamic month of fasting. We became fast friends and spent many hundreds of hours over the course of my four years discussing politics and philosophy," Seven wrote in the book.
While studying political science and African-American studies at Stockton, Seven was the first African-American and first two-term president of the College's Student Senate. Before graduating with honors, he also founded the Pi Xi Chapter of the Alpha Phi Alpha fraternity and served as a chairperson for the African-American History Month Committee of the Unified Black Students Society (UBSS).
Seven also pointed out in Squircular that "Stockton taught me to see opportunities instead of obstacles."

---
Annual Scholarship Benefit Gala Returns to Borgata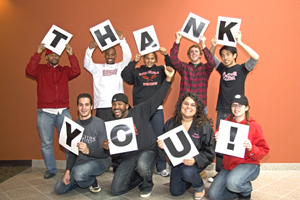 The 31st Annual Stockton Scholarship Benefit Gala, hosted by the Stockton College Foundation, will return to Borgata Hotel Casino & Spa in Atlantic City on Saturday, April 30, 2011 at 6:30 p.m.
Stockton President, Dr. Herman J. Saatkamp, Jr., said, "Scholarship recipients are among the brightest and most deserving students. In this economy, our students need help more than ever."
The College community, area business and civic leaders, and scholarship recipients gather annually to enjoy an evening of fine dining, entertainment and community engagement in support of Stockton's students. Proceeds from the event benefit Stockton students.
Dr. Saatkamp said, "Gala contributions directly affect the lives of our students who have the potential to become the next generation of leaders in our communities. Today, we make a difference for our students, and tomorrow our students will make a difference for our region."
Cocktails and a silent auction will begin at 6:30 p.m., and dinner will follow at 7:30 p.m. The silent auction will continue through dinner. The entertainment, to be announced at a later date, will begin at 9:30 p.m.
This year's gala Chairs are Gayle and Dr. Howard Gross. Gayle Gross is the Chair of the Stockton College Foundation, and Dr. Howard Gross is the founder of Horizon Eye Care.
Gayle Gross said, "Our goal is to raise $700,000. Every contribution is rewarded tenfold in assisting students to pursue their academic dreams during their scholastic journey at Stockton."
For the second consecutive year, Auggie Cipollini, Senior Vice President of Operations at Borgata Hotel Casino & Spa, will serve as the Honorary Chairman for the event.
To register for the gala or to become a sponsor, please visit www.stockton.edu/benefitgala.
---
Stockton Statistic
On December 19, 2010, 858 students were granted degrees during the College's Fall/Summer Commencement Ceremony, the largest fall graduation to-date. Of the total number of graduates, 62 received advanced degrees.
The undergraduate Computational Science program graduated its first two graduates, Richard Page and Michael Laielli. At the graduate level, the Professional Science Master's in Environmental Science program hooded its first graduate, Michael Zucker, during the morning Hooding Ceremony.
---
Stockton Fun Fact:

What member of the Stockton men's basketball team recently scored his 1,000th career point for the Ospreys?

(Click here to reveal the answer)


Answer:
Answer to fun fact: Senior guard Kai Massaquoi, a resident of Lawnside and graduate of Haddon Heights High School, scored his 1,000th point in a 79-53 win over Messiah. On January 3, Kai reached the milestone with a free throw early in the second half to become the 27th player in Stockton men's basketball history to do so.