Stockton Earns High Marks in "Sustainability Report Card"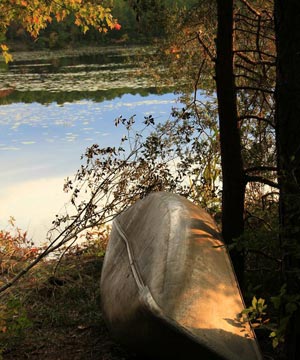 The Richard Stockton College of New Jersey earned high marks in the Sustainable Endowments Institute's Sustainability Report Card.
Stockton's overall grade was the top score among the New Jersey public higher education institutions that participated. Long a model for "green" initiatives nationwide, Stockton rated an "A" for its use of energy in relation to climate change.
Home to one of the world's largest closed-loop geothermal heating and cooling systems for its buildings, the College also employs Aquifer Thermal Energy Storage technology, energy efficient lighting, timers on temperature controls and numerous other techniques. Ten percent of the College vehicle fleet is comprised of electric cars, and six percent of electricity is purchased from a solar array located on campus.
"As New Jersey's Green College, we had an expectation to do well on this report card," Stockton President Herman J. Saatkamp, Jr., said. "We are pleased to have done well overall, and we are clearly focused on the areas where we can do an even better job."
In all, 322 colleges and universities participated nationwide in the extensive survey. It graded such factors as faculty and administration initiatives, climate change and energy, food and recycling, green building, student involvement, and transportation. It was Stockton's first year participating in the survey. "We consider our grade to be a good base line to evaluate where we stand nationally and how we might strive for continued improvement," Dr. Saatkamp said.
The aim is to provide accessible information so that colleges and universities may learn from each other's experiences, thereby fostering more effective sustainability policies. The report assesses 52 indicators, from green building initiatives to recycling programs to endowment investment policies, and uses an A to F letter-grading system to evaluate performance.
Stockton's dining services were lauded for obtaining 20 percent of all food from local sources and for serving 100 percent "cage free" eggs. Sustainably harvested seafood, fair trade coffee in all dining locations and discounts for students, faculty and staff using reusable mugs were cited.
The new 154,000 sq. ft. Campus Center is registered for Leadership in Energy and Environmental Design (LEED) review and is expected to receive LEED certification (as did new campus sustainability-themed Living Learning Communities and the renovation of a major wing). The College's storm water runoff reduction measures, including retention ponds, underground infiltration structures and vegetative and stone swales, were also noted.
Stockton's initial Sustainability Committee was lauded in the report particularly for its greenhouse gas emissions inventory, and the College was noted for having a formal policy on sustainability purchasing and for making sustainability one of the major themes of its facilities master plan and strategic plan.
Student involvement cited in the report card included Stockton Action Volunteers for the Environment (SAVE), New Jersey's oldest student-run organization of its kind. Students embrace carbon-neutral transportation on campus bicycles and receive a 25 percent discount when they utilize New Jersey Public Transit, which also operates free campus shuttle buses.
For more information including the complete set of Report Card data, visit www.greenreportcard.org.
---
From the White House to Stockton College: A Conversation with Mike Emanuel
He has interviewed George W. Bush and Dick Cheney several times; he covered Princess Diana in London; and his first question to President Barack Obama was an icebreaker about the Super Bowl, "Mr. President, Steelers or Cardinals, Sir?". Mike Emanuel, a Greek-American White House correspondent for Fox News Channel, spoke at the annual Friends of Hellenic Studies scholarship luncheon held at the historic Seaview Resort on November 7.
Mr. Constantine Georgiou, treasurer of the tri-state chapter of the American Foundation for Greek Language and Culture (AFGLC), presented a $10,000 check to President Saatkamp for Stockton's Interdisciplinary Center for Hellenic Studies on behalf of the AFGLC finance committee.

Emanuel, a native of Westfield, New Jersey, grew up with Stockton's Katherine Panagakos, Assistant Professor of Classics. During his talk, he explained to the audience, which included a large number of students in Stockton's Order of Greco-Roman Enthusiasts (OGRE) and scholarship recipients, that he chased his dream and now he is living it. He encouraged everyone to roll up their sleeves, work hard and to look at life with a good attitude.
Emanuel said, "I've seen good days on Air Force One, and I've seen difficult days on Air Force One." However, his career didn't start with interviews being conducted aboard the president's personal aircraft. Emanuel began working in his current title in 2007, and prior to joining Fox News, he reported for various news stations in Texas and California. Emanuel explained that he covered the rodeos and the ostrich festivals, but his career took a turn in 1994. His news director at that time asked him to cover the race for governor of Texas, between George W. Bush and Anne Richards. The rest is history.
Every once in a while, we encounter moments in our careers where we have to pinch ourselves to make sure we aren't dreaming. Emanuel had one of those moments while covering President Bush's trip to the 2007 G-8 Summit in Heiligendamm, Germany. Emanuel was the only broadcast journalist in Rome to attend President Bush's first meeting with Pope Benedict XVI at the Vatican. Emanuel recalled that during that meeting, he thought to himself, "I'm in the Vatican, and I just got called Mikey by the President in front of the Pope."
During the event, the Friends of Hellenic Studies presented The Rev. Dr. Demetrios J. Constantelos Award for Hellenic Paideia–named after Stockton's esteemed emeritus professor of History and Religion– to Stockton benefactors, Dr. Peter and Stella Yiannos of Wilmington, DE. Tom Papademetriou, Professor of History and Executive Director of the Interdisciplinary Center for Hellenic Studies (ICHS), explained that the Yiannos' were recognized "for their contribution to vigorous promotion of Hellenism at Stockton and in the wider community." Their donation in 2003 created the ICHS endowment for the Peter and Stella Yiannos Endowed Professorship of Greek Language and Literature, held by Prof. David Roessel.
For more information on Stockton's Interdisciplinary Center for Hellenic Studies and the Friends of Hellenic Studies, visit www.stockton.edu/ichs.
---
Stockton's Computational Science Program to Compete for Top Honors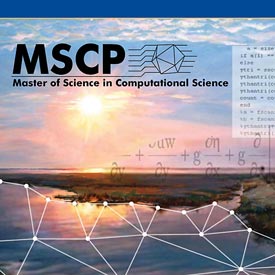 A team of students and professors from Stockton's computational science program will participate in the world's largest international supercomputing conference, SC'10, from November 12 through November 17, 2010, in New Orleans.
Stockton's new Computational Science (CPLS) program is one of five programs in the nation that will compete for the Undergraduate Computational Engineering and Science (UCES) 2010 Award at SC'10. As data accumulates, the need for computational scientists grows. Innovative programs that will prepare the next generation of scientists will be recognized and presented as models for other institutions to follow.
The award, which is funded by the U.S. Department of Energy, is administered annually by the Krell Institute. Dr. Russell Manson, associate professor of computational science and director of the computational science master's program, Dr. Monir Sharobeam, professor of computational science, and Dr. Robert Olsen, assistant professor of computational science, are Stockton's finalists for the award.
During SC'10, the five programs will be showcased for their success in building excellent computational science curricula. Dr. Russell Manson will present the CPLS curriculum to a panel of judges during a competition between the finalists on behalf of the CPLS program.
Stockton's CPLS program is currently in its fourth academic year and houses the College's newest graduate degree program, the Master of Science in Computational Science (MSCP). Both degree programs have already attracted a wide variety of students from computer science and math majors to employees of the Federal Aviation Administration's William J. Hughes Technical Center.
---
Design of New Facilities Featured in National Publication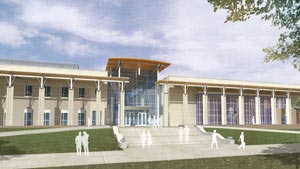 The College is in the process of its most comprehensive phase of construction since the main campus opened here in 1971. According to American School & University magazine, six of the projects were judged among the best in the United States, according to the recent "Educational Interiors Showcase" issue.
The magazine gave a special citation to the new 154,000 sq. ft. Campus Center, on schedule to open in spring 2011. In addition, outstanding design recognition was given to the Living/Learning Community housing complex, the redesign and renovation of Elizabeth B. Alton Auditorium, the renovation and addition to the Sara and Sam Schoffer Holocaust Resource Center, "adaptive reuse" of an outdoor courtyard to an indoor atrium and the conversion of the former swimming pool to an art gallery and office space.
The magazine interviewed Donald E. Moore, associate vice president for operations, concerning the changes in the way educational interiors have been designed in the last 20 years. "Flexibility of a space is now much more prominent since institutions are becoming more flexible in their academic offerings," said Moore, a resident of Jackson, New Jersey. "As offerings evolve, so must (Stockton's) ability to deliver spaces that readily support such evolution at a reasonable cost."
The Campus Center is a prime example of Moore's philosophy. In addition to serving the traditional function of student recreation, entertainment and space for student organizations, the Center is to provide a central location for "one-stop shopping" of student business, such as the bursar's office, student records and financial aid. The Center was cited for its use of environmentally sustainable building materials and design.
The magazine cited "outstanding designs" for the following:
• Complex of Six "Living/Learning Community Residence Halls." These three-story buildings each contain a ground floor common social lounge, study areas and laundry facilities. Each residence suite has a kitchen, living room and private bedrooms.
• Sara and Sam Schoffer Holocaust Resource Center. The renovation of the existing space in the Library and a rooftop addition were cited. The space has a wood entrance reminiscent of the boxcars that transported Holocaust victims, and the display of authentic European train rails.
• Elizabeth B. Alton Auditorium. This 6,000-sq. ft. space was completely gutted and reconfigured. A 276-seat tiered seating arrangement was installed and the main entrance has relocated to the second floor. A two-story glass viewing wall provides a backdrop of pine forest and lake.
• Courtyard/Atrium Conversion. An underused virtually inaccessible outdoor courtyard space had been sandwiched between two buildings. The conversion will transform the space into a two-story interior atrium suitable for academic programming, events and community gatherings. An embedded flooring design will depict endangered plant and animal species found on the Stockton campus.
• Swimming Pool Adaptive Reuse, Addition and Renovation. This is a creative reuse of a building originally designed to house a pool, which is being replaced. The structure itself will remain and two floors of academic and administrative space will be constructed along with a new art gallery.

---