Campus Center Set to Open New Era for Stockton
The Campus Center at The Richard Stockton College of New Jersey is almost ready to open its doors and to fulfill its promise as a new focal point of the main campus.
The 154,000 square foot building, the largest single construction project since the campus opened in 1971, will debut with a ribbon-cutting ceremony as part of this year's commencement exercises on May 7. However, offices will begin relocating there and some student services will become available beginning the second week in April.
"The opening of the Campus Center marks a new era for Stockton." President Herman J. Saatkamp, Jr. said. The Campus Center will provide a focal point for the campus, a gathering point for students, faculty, staff and visitors, and begins the transformation of our campus." Not only is the Campus Center the new "front door" of the College, it will be a place to conduct College business in a "one-stop shopping" atmosphere with Registrar, Bursar, Bookstore and most other services available in close proximity. Student organizations which once shared cramped space will have their own offices and a shared conference room. An intimate 255-seat theatre, and a "main event room" will be available for performances and classes. This room can seat 400 for dinner, 650 for lectures and will be the site of such events as the students' Osprey Ball. Separate spaces housing a food court, coffee shop, game room and bookstore are among the Center's many features.
As an added benefit, the building's opening allows the conversion of existing spaces for much-needed classrooms and offices. The Campus Center helps to alleviate our immediate shortage of space and serves as the first component to our long-range plans to expand and meet the demand of the growing southern New Jersey region," Dr. Saatkamp said.
Stockton's educational mission is served well by the new building. The additional space allows for more and centralized space for institutes and centers, expansion of the skills centers, testing center and learning access program. The Center's opening allows the Southern Regional Institute and Educational Technology Training Center to move from its present Mays Landing location to the Parkway Building, and for the offices at Parkway to return to the main campus. The West Quad building becomes the home of Stockton's Health Sciences programs.
Additional highlights of the building:
Grand Hall artwork by Stockton faculty member and local resident David Ahlsted
Coffee House
Lockers for commuter students
Game room with billiards, table tennis and foosball
Dedicated student club/organization space with more than 20 club offices including the student newspaper, the Argo; and the radio station, WLFR
Student conference room for organization committee meetings
Board of Trustees rooms for meetings and functions
Designed for LEED certification (Leadership in Energy and Environmental Design)
Five meeting rooms
Convenience store, bank and ATM service

---
Marc Antonelli Set to Entertain at Annual Scholarship Gala April 30
Marc Antonelli
At only 23 years of age, Marc Antonelli has quickly become a singing sensation with a unique repertoire of opera and classical ballads mixed with rock and roll.
Antonelli, along with Stockton's Faculty Band, will perform at The Richard Stockton College of New Jersey's 31st Annual Scholarship Benefit Gala at Borgata Hotel Casino & Spa on Saturday, April 30, 2011. Cocktails and a silent auction will begin at 6:30 p.m., dinner will follow at 7:30 p.m. and Antonelli's performance will begin at 9:00 p.m.
Stockton President Herman J. Saatkamp, Jr. said, "Gala contributions directly affect the lives of our students who have the potential to become the next generation of leaders in our communities. Today, we make a difference for our students, and tomorrow our students will make a difference for our region."
A native of Hanson, Massachusetts, Antonelli was a member of his high school musical theater program, but he fell in love with opera upon meeting opera singer Martina Ferrante, who soon after became his first voice teacher.
Antonelli graduated from Berklee College of Music in 2009. He has studied with Ric Poulin, the head pop instructor at Bristol Studios, Duane Moody of the famous "The Three Mo Tenors" and he currently studies with world renowned vocal coach Sal Dupree.
He has mastered singing in English, Italian, Spanish and French, and he is no stranger to Fenway Park, where he sang "God Bless America" during a televised national event.
"With his unique style and charisma, it's no surprise that Marc Antonelli has become a rising star in the singing arena and a local celebrity," Dr. Saatkamp said. "We are very excited that he will be performing at our gala alongside our very own Faculty Band."
Last year, Antonelli moved to Brigantine and began performing at the Tropicana's Tango Lounge in April. By October, he was performing his show "One on One With Marc Antonelli" in the Tropicana's Showroom, and earlier this month, Antonelli headlined "Unknown to Irresistible."
Antonelli describes his style as eclectic, and he has a passion for songs sung by Frank Sinatra, Dean Martin, Al Martino and Michael Buble. He has performed for Legendary World Boxing Champions, The Mohegan Sun Arena and at a number of casinos and resorts.
To purchase a ticket for the gala, donate an auction item or make a donation to the Richard Stockton College Foundation, please visit www.stockton.edu/benefitgala or call the College's Office of Development at 609-652-4527.
For the second consecutive year, Auggie Cipollini, senior vice president of operations at the Borgata Hotel Casino & Spa, will serve as the honorary chairman for the gala. This year's gala chairs are Gayle and Dr. Howard Gross. Gayle Gross is the chair of the Stockton College Foundation, and Dr. Howard Gross is the founder of Horizon Eye Care.

---
Stockton Announces Summer Sustainability and Environmental Academy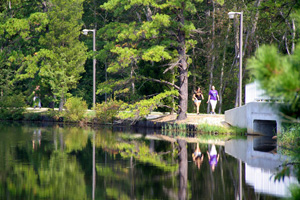 The Richard Stockton College of New Jersey is offering a new two-week residential learning experience for 48 qualified rising high school seniors: the Stockton Summer Sustainability and Environmental Academy (SSSEA).
"Building on more than two decades of success hosting the Governor's School on the Environment, and having one of the more environmentally-conscious institutions in the nation, Stockton is uniquely positioned to host this Academy," said Stockton Provost Dr. Harvey Kesselman. "The students who are selected to attend this Academy will enjoy rare opportunities for learning while earning three college credits."
Participants in the Academy will spend adventure-filled days hiking, kayaking and learning about many of the ecological habitats in southern New Jersey. Students will explore the 1,600 acres of Stockton's main campus in the environmentally-sensitive Pinelands, experience sustainable living on an island in the middle of Barnegat Bay, and learn about the coastal and marine environment aboard Stockton's research vessels located at its Nacote Creek Marine Science and Environmental Field Station.
In the evenings, participants will take part in discussions with experts in environmental conservation, environmental law, sustainability, and other areas. Leaders of Stockton's science faculty and representatives of "green" corporations will be among those taking part.
Applications for the Academy are available now and must be completed and submitted by March 31, 2011. For applications go to the Stockton website at www.stockton.edu and enter the keyword SSSEA in the "search box." This will bring you to the Program's information and application page. Due to the nature of the experiences offered, small class sizes and other limitations, only 48 applicants will be admitted into the competitive program. Notifications of acceptances are expected to be emailed on or before April 15, 2011.
The Academy will take place from July 10 to July 24, 2011. Upon successful completion, students will be awarded three college-level credits which may be transferable to other colleges and universities and will be accepted at Stockton. Tuition, all transportation for field trips, and room and board for the two-week experience is $2,500. "As New Jersey's Green College, Stockton has been in the forefront of environmental education since its founding 40 years ago, said Dean of Natural Sciences and Mathematics Dennis Weiss. "Our Environmental Science and Marine Science Programs are nationally renowned and the faculty are leaders in the study of local, regional and global environments. This Academy promises to be a truly exceptional opportunity for environmentally-minded students."
For more information contact Kevin C. Wolbach, Director, via email at SSSEA@Stockton.edu or call (609) 652-4924.

---
Paul Lyons Memorial Lecture Examines Roots of American Jazz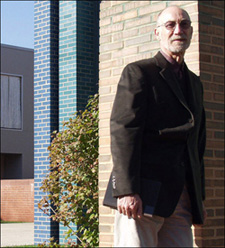 Paul Lyons
American historian and jazz expert Robin D.G. Kelley, Professor of American Studies and Ethnicity at the University of Southern California, will deliver the next Paul Lyons Memorial Lecture Series talk at The Richard Stockton College of New Jersey.
Kelley will explore some of the roots of one of America's most popular forms of music in the speech "Africa Speaks, America Answers: Modern Jazz in Revolutionary Times" to take place Thursday, April 7, 2011 at 6 p.m. in Alton Auditorium (A-Wing) at the main campus in Galloway Twp.
He is author of the prize-winning books Thelonious Monk: The Life and Times of an American Original; Hammer and Hoe: Alabama Communists during the Great Depression; and Race Rebels: Culture Politics and the Black Working Class. His book Yo' Mamma's DisFunktional!: Fighting the Culture Wars in Urban America was selected as one of the top ten books of 1998 by the Village Voice.
He recently completed Going Home: Jazz and the Making of Modern Africa, from which the topic of the Stockton lecture comes. This topic is particularly appropriate for the Lyons Lecture series, as the late Stockton Professor Paul Lyons, for whom the series was named, was not only a lover of jazz but a saxophone player and vocalist in Stockton's popular Faculty Band. The Faculty Band plays at numerous college and community events.
---
Stockton Statistic:
Over the course of six years, the value of Stockton scholarships has skyrocketed 682 % – going from $791,425 in 2005 to $6,191,857 in the 2010 fiscal year. The College budgeted a total of $9.5 million for scholarships for 2011.
---