New Doors Open for Hospitality, Tourism Management Students at Stockton
Former United States President Dwight D. Eisenhower, Princess Grace of Monaco, Golf Hall of Famer Ben Hogan, the Rolling Stones and professional golfer Annika Sorenstam have each either graced the golfing greens with their signature swings or visited the luxurious historic Seaview Golf Resort at one point in the resort's nearly 100-year long history.
Now, almost a century after Seaview's doors first opened, Stockton students will have the benefits of this spectacular jewel of the region.
Earlier this month, Stockton finalized its purchase of Seaview Golf Resort. The hotel and golf resort will continue to be operated by Dolce Hotels and Resorts while Troon Golf will continue to manage both golf courses. The resort's mission of providing distinguished service to business and leisure travelers will meld with Stockton's educational mission. The resort is envisioned as becoming a "learning lab" for students, an exciting new teaching venue for faculty as well as a conference center and event venue for College sponsored programs and community activities.
"The acquisition of Seaview represents a historic occasion for the College and its community," Stockton President Dr. Herman J. Saatkamp, Jr. said. "We are delighted this magnificent facility will continue to be part of the fabric of southern New Jersey. The facility will continue to operate as it has in the past, as a world-class resort with an unparalleled level of service and amenities. At the same time, the acquisition represents a new and exciting day for Stockton and for Seaview."
While Seaview's future is a primary focus, it is important to consider the facility's historic past. Once a bayside farm, Seaview Golf Resort is now a world-renowned vacation destination, home to two championship golf courses and soon to be an educational resource for the region's next generation of hospitality professionals. In 1942 Hall of Famer Sam Snead snagged his first PGA Championship major on a Seaview golf course, and in 1946 Grace Kelly celebrated her 16th birthday in Seaview's Oval Room. Dr. Saatkamp said he was excited the College would play an integral role in writing the next chapters in the resort's proud history.
"We are looking forward to having this magnificent facility as part of the Stockton family and operating Seaview at the same level people have come to expect. The acquisition allows us to advance the educational mission, enhance the College experience for our students and preserve an iconic landmark of the region."

---
President Saatkamp to Mentor ACE Fellow During Spring 2011 Semester
Dr. Suk-Chung Yoon, chair of the Computer Science Department at Widener University, will join the Stockton community for the spring 2011 semester as one of forty-six 2010-11 American Council on Higher Education (ACE) Fellows.
Dr. Saatkamp said, "Dr. Yoon will be the second ACE fellow I have had the opportunity to work with since I came to Stockton. Dr. Jean Harris, now chair of the Political Science Department at the University of Scranton, was a delight to work with, and I'm looking forward to a mutually beneficial experience with Dr. Yoon."
The American Council on Higher Education's ACE Fellows Program was established in 1965 to recognize and prepare distinguished senior faculty and administrators for advanced leadership positions within the field of higher education.

ACE fellows have the opportunity to work at any higher education institution or with any university or college president in the country. Dr. Saatkamp said, "It is an honor that two have chosen Stockton."
Over the past 20 years, Dr. Yoon has taught computer science courses to students of all levels including non-majors, upper class computer science majors and graduate students. While contributing to administrative activities and decision-making at their host institutions, ACE fellows focus on an issue of concern to their nominating institution. Dr. Saatkamp will provide guidance and support to Dr. Yoon throughout his fellowship.
Dr. Yoon said, "My research has focused on artificial intelligence, data mining and large scale computing," and "one of the most rewarding aspects of my job has been the privilege to witness young students reaching their full potential as they apply their knowledge and experience learned at Widener University."
---
Stockton College Master Plan Approved by NJ Pinelands Commission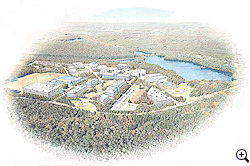 At its recent meeting, the New Jersey Pinelands Commission approved the April 2010 version of Stockton's Facilities Master Plan, including the 154,000 square foot Campus Center, set to open in late spring of 2011.
The New Jersey Pinelands Commission unanimously approved the Facilities Master Plan, which will permanently preserve more than 1,200 acres of land while providing room for needed College expansion of its physical plant.
"The Commission's approval is the culmination of a considerable effort by the Pinelands Commission and Stockton," said Dr. Saatkamp. "Protection of the environmentally sensitive Pinelands area of Galloway Twp. has been a mutual priority of the Commission and the College. We are quite pleased to have developed a plan that will benefit New Jersey students while preserving one of the state's most precious natural resources, our Pinelands."
For complete details on the Master Plan, Campus Center transition and backfill planning projects, visit the Facilities Master Plan website.

---
Your Opinion Counts: Getting Ready for Middle States Re-Accreditation
Stockton is currently preparing for its next 10-year review by the College's accrediting association, the Middle States Commission on Higher Education. The Commission will send a visiting team of Stockton's peers from neighboring Mid-Atlantic States to spend a few days at our campus in the spring of 2012.
In preparation for that visit, Dr. Saatkamp has appointed a planning team, a steering committee and seven work teams, comprising more than 100 faculty, staff, students, alumni, community and representatives of the Board of Trustees and Foundation Board.
Currently, the teams are collecting input from the College community for a Self Study report, and other preparations needed for a successful review. This process is open to all and your input is valued. If a Middle States team member has not already contacted you, please give us the benefit of your voice. You may contact a member to add your thoughts or visit the Accreditation website for more information.
---
Stockton 2020 Strategic Planning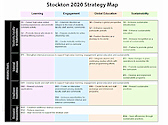 The College's 2020 Strategic Planning process is entering a new phase as the effort's steering committee recently completed its first phase. The initial planning work and collection of data from Stockton community members which occurred last year will be incorporated as the planning effort continues. For the current academic year, the committee will be implementing the strategic themes of Learning, Engagement, Global Perspectives and Sustainability.
Visit the Stockton 2020 Strategic Planning website for more information.
---
Alumni Spotlight: Interview with Erik X. Raj, Winner of the Therapy Times' Most Influential Award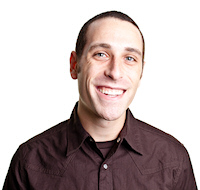 Erik X. Raj
Lifelong learning is more than just a vision at Stockton– it's a reality. Erik X. Raj, who graduated from Stockton in 2006 with a Bachelor of Science degree in speech pathology and audiology, exemplifies the essence of a lifelong learner.
At the end of the summer, Raj sent an e-mail to Associate Professor of Speech Pathology and Audiology, Richard C. Berry, one of his former professors, to share his most recent accomplishment– the 2010 Therapy Times' Most Influential Award. The Therapy Times' Most Influential Award is a national recognition that highlights one practitioner each from the following therapy professions: nutrition, occupational, physical, respiratory, pediatric, nursing, music, auditory and speech therapy. Therapy Times is a multidisciplinary online resource for healthcare professionals.
Stockton's Dean of the School of Health Sciences, Dr. Brenda Stevenson-Marshall, said, "Erik's success has illustrated that he doesn't stop until he's at the top of his pursuits." Raj is now a speech-language pathologist at the Hamilton Township School District in Mercer County. Raj administers diagnostics and provides therapy to school-aged students with speech, language, voice and fluency disorders.
Raj's approach to working with children who have speech-language disorders utilizes an unlikely resource. Raj is the author of the award-winning children's book One Seashell, Two Seashell, Flap, Flap, Flap, which he reads to children during therapy.
One Seashell, Two Seashell, Flap, Flap, Flap, was recognized by Creative Child magazine in July of 2010. Raj's book was awarded the 2010 Creative Child Magazine Preferred Choice Award. Creative Child is a national bi-monthly publication that provides parents with the latest information on how to nurture childhood creativity. In June of 2010, JM Northern Media recognized Raj's book with an honorable mention at the 2010 New York Book Festival.
In an interview conducted by Stockton College, Erik Raj shared his inspirations, challenges, rewarding moments and advice to future speech-language pathologists.
When did you decide to become an author? I have always been a huge believer that reading and telling stories is one of the best ways that you can strengthen a child's language skills. Every day, I utilize children's books as a therapy tool with my students. I wanted to personalize this experience for my clients and incorporate a positive life message. I chose to create my own story that integrates speech therapy and character building. When reading my book, I encourage the listener to predict the characters' actions and describe the pictures using nouns, verbs, and adjectives, which does wonders for a child's communication abilities.
What inspires you to write? I had no idea what I was in store for, writing my first children's book. When I saw my student's eyes light up after I read the story, I was truly astonished. My words have the ability to make a deep connection and encourage the child to always strive for more. That spark from these children inspires me every day to also set my goals higher. A huge problem that I see is not that we set our goals too high and fall short, but we set them too low and actually achieve it. Even as an adult, we should never stop dreaming. I want to continue to write books, not only for myself, but to relay an important message to children who may not have that inspiration in their lives.

What has been your most challenging moment in your speech pathology career? Each day can be a challenge and everyone has their moments. However, for me, one of the most difficult parts of my career was actually just getting started. There are so many job opportunities for speech-language pathologists. You can choose to work in schools, hospitals, nursing care facilities, and the list goes on and on. One of the most challenging things for me when I was a recent graduate was to try and figure out exactly where I, and my therapy style, fit in. Surprisingly, not every employer embraces individuality and creativity. I felt disappointed when my enthusiasm for the profession was not met with the same sentiment. The main thing to remember is to apply and interview at as many places as possible so you can get the feel of that particular environment. Find the place that allows you to run wild with your clinical creativity. A setting that encourages you to think outside the box on a daily basis and embraces collaboration is an ideal work environment.
Your most rewarding moment? One day before summer vacation, a second grade student gave me a card and in it he wrote, "Dear Mr. Raj, I think speech class is more fun than gym class." That card was one of the most amazing gifts that I have ever received. Knowing that I am able to help children communicate their wants and needs effectively warms my heart. I continuously give children the skills they need so that they can solidify their speech and language abilities. I feel like I am really contributing to society. Plus, everyone knows that gym class was always the coolest, so I suppose I am doing something right if that child thinks speech therapy is more fun!

What advice would you share with current students in Stockton's Speech Pathology and Audiology program? If you work with children, do not be afraid to get silly during a therapy session – smile, laugh, make jokes. This sounds so simple; however, I have noticed that sometimes educators forget to do all of these actions and have fun. Humor helps to build trust and draw the child and therapist into a closer alliance. Building that relationship is the foundation of learning.
To learn more about Erik X. Raj and his book One Seashell, Two Seashell, Flap, Flap, Flap, visit his website http://www.erikxraj.com.

---