Campus Center Opens, Official Ribbon-Cutting May 7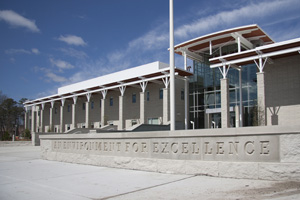 Stockton's new Campus Center
A new era in the history of The Richard Stockton College of New Jersey opened this month when the Admissions office moved out of F-Wing to become the first occupant of the new 154,000 sq. ft. Campus Center.

Shortly thereafter Student Development, Chartwells Dining Services, Veterans Affairs, Events Services, the College Bookstore and radio and television stations WLFR and SSTV joined admissions in new state-of-the-art spaces.
The building will open officially on Saturday, May 7, following morning commencement exercises with a ribbon-cutting ceremony in front of the building. Representatives of the Board of Trustees and President Herman J. Saatkamp, Jr. will officiate.
The Campus Center -- the largest single building project at Stockton since the main campus opened in 1971 -- is much more than cast stone and marble. The long-awaited Center provides much-needed room for growth and enhancement of Stockton's academic mission. The building opens room on campus for more classrooms, more faculty and staff offices, and more access for New Jersey students.
"One of Stockton's ongoing challenges when I arrived in 2003 was a severe space deficit," Dr. Saatkamp said. "Our lack of space was limiting access to the College at a time when applications were at an all-time high. We made orderly growth and expansion a priority and addressed the situation with new student housing and the Campus Center," he said. "We are now operating close to where we should be in terms of the space needed for our academic programs, special events and community services."
Opening on time and on budget, the Center is a focal point for student, faculty and community engagement and essentially serves as a new "front door" of the campus.
"Before the Campus Center, first-time visitors and students did not have a sense of place," President Herman J. Saatkamp, Jr. said. "Many of the student services were spread out all over the campus. Now they are all here, along with many other exceptional features."
Admissions, Bursar, Career Center and Student Development are a few of the areas which are located in close proximity in the new building. There are new offices and space for over 20 student clubs and organizations, a game room, food court, lockers for commuter students and many more highlights too numerous to list here.
"The best way to experience the Campus Center is to pay a visit, which we certainly invite the community to do," Dr. Saatkamp added.

---
Nelson Johnson and Willie Geist to Speak at Stockton's 40th Spring Commencement Ceremonies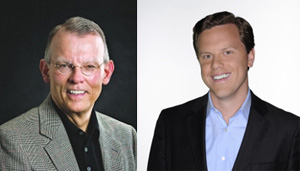 Nelson Johnson (left) Willie Geist (right)
Nelson Johnson, whose book Boardwalk Empire:The Birth, High Times, and Corruption of Atlantic City was the basis for the critically-acclaimed HBO series Boardwalk Empire, and MSNBC news commentator Willie Geist will be keynote speakers May 7 at the annual Spring Commencement ceremonies at Stockton. New Jersey natives Johnson and Geist have risen to national prominence in recent years.
"Stockton is pleased that our 2011 graduates will have the benefit of hearing from Nelson Johnson and Willie Geist," President Herman J. Saatkamp, Jr. said. "Nelson and Willie are fitting keynote speakers on the occasion of our 40th spring graduation."
Nelson Johnson will speak at the morning ceremony for degree candidates in the School of Graduate and Continuing Studies, School of Arts and Humanities, School of Business and School of Education. Prior to serving as a New Jersey Superior Court judge, Johnson was attorney for the Atlantic City Planning Board at the time of the approvals for many of the casinos and was inspired to write an objective political history of the city. He then spent nearly two decades researching and writing his book. In 2010, HBO began airing episodes of the the television adaptation of the volume and it quickly became one of the most-watched and acclaimed series on the network.
Johnson, whose family presence in Atlantic County predates the founding of Atlantic City, followed up Boardwalk Empire with The Northside: African Americans and the Creation of Atlantic City, released in November, 2010.
Willie Geist is the commencement speaker in the afternoon ceremony for degree candidates in the School of General Studies, School of Health Sciences, School of Natural Sciences and Mathematics and School of Social and Behavioral Sciences. He is host of MSNBC's "Way Too Early with Willie Geist" and co-host of the network's popular "Morning Joe" show. He also hosts Zeitgeist, a satirical video blog on msnbc.com.
Geist joined MSNBC in 2005 as a senior producer of The Situation with Tucker Carlson. During the show's development, producers decided Mr. Geist's newsroom banter with Carlson would be ideal for the show, so Geist spent the last segment of The Situation (later called Tucker) reporting and offering his unique spin on the day's news.
Willie Geist graduated from Ridgewood High School and went on to Vanderbilt University in Nashville where he earned a B.A. in Political Science. He contributes frequently to a number of NBC News programs including Today. Geist is the author of the New York Times bestselling book American Freak Show.

Jersey Shorecast to Give Insiders' Look at the 2011 Tourism Season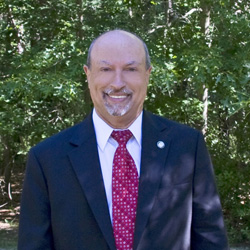 Dr. Israel Posner
Is the southern New Jersey Shore's economy ready for a major rebound as the tourism and hospitality industries gear up for its main season?
"Despite record high gas prices and continued uncertainty about the general state of the economy, we are seeing signs the Jersey Shore is going to have some major bounce this spring and summer," said Israel Posner, executive director of the Lloyd D. Levenson Institute of Gaming, Hospitality and Tourism (LIGHT) of The Richard Stockton College of New Jersey.
On Wednesday May 11 from 8:15 to 10:15 a.m., the Levenson Institute will offer a unique insider's look at the regional economy when it hosts the annual Jersey Shorecast. The event takes place at Stockton's Carnegie Library Center at Pacific Avenue and Dr. Martin Luther King, Jr. Blvd. Although the event is free and open to the public, pre-registration is required as seating is limited. Call 609-347-2175 or email light@stockton.edu to register.
Now in its third year, the Shorecast has become one of the region's most anticipated events for followers of the region's business and economic trends. Stockton faculty members team with tourism and hospitality industry representatives for a candid, fast-paced and insightful look at questions such as: will day-trippers, vacationers and casino patrons make 2011 a banner year? How does the overall economy affect travel and tourism? How are summer rentals, hotel and motel bookings shaping up? And what about those skyrocketing gas prices?
"At first glance one might think gas prices could be a deterrent," Posner said, "However, the Jersey Shore still is close by for a huge segment of the United States population. One tank of gas away is still relatively inexpensive for travel these days. What's more, we are coming off a very difficult winter with regard to the weather, and people who stayed home last summer may be ready to come back. The Jersey Shore holds a strong emotional pull for generations of visitors. There could be pent-up demand from folks who stayed home in 2009 or 2010."
Posner said the region survived the worst period of the economic downturn in 2009, and last year's Shorecast - which called for cautious optimism - was on-point as a minor upturn in business may have foreshadowed an even stronger comeback for this year. He said published reports have indicated advance bookings of vacations and events are ahead of last year's levels at this time.
"It will be interesting to hear what our panelists have to say about the prospects for this year's tourism season, as we have a diverse group lined up," Posner added.
The Shorecast panelists include Stockton faculty members Dr. Oliver Cooke, associate professor of economics; Dr. Brian Tyrrell, associate professor of hospitality and tourism management studies; as well as Vicki Clarke, president of the Cape May Chamber of Commerce; Michele Gillian, executive director of the Ocean City Chamber of Commerce, Lori Pepenella, director of destination marketing at the Southern Ocean County Chamber of Commerce; and representing the Greater Atlantic City Region Chamber of Commerce, George Lynn.

---
Your Answers Can Help to Shape Stockton's Future

As the College continues to grow and evolve, an integral cycle that keeps it on track with its mission is currently underway: reaccreditation by the Middle States Commission on Higher Education.
Made up of 571 institutions of higher education, the Commission accredits degree granting colleges and universities. Stockton received full regional accreditation from Middle States in 1975. Since then, five- and ten-year phases of self evaluation, peer review and reaffirmation of reaccreditation have occurred regularly.
Members of Middle States receive federal Title IV funding for areas such as violence prevention and community learning. Accreditation strengthens an institution's reputation and builds public confidence.
The College is currently preparing for the spring 2012 visit by a team of Middle States representatives and has begun drafting the Self Study document, which will analyze student achievement, institutional effectiveness, resources, curriculum development, integrity and finances.
This summer, the entire College community will have the opportunity to have their voices heard. The Self Study will be published and released for college-wide feedback. Everyone's input is important. Feedback can be submitted via the Stockton website, e-mail, telephone or in-person conversations with the Self Study co-editors, Dr. Debbi Dagavarian and Dr. Marissa Levy.
A tutorial has been posted to the accreditation website, which describes in detail the importance of Middle States accreditation and how we can all help to make a difference. To visit the accreditation website, please click here. To view the video tutorial, please click here.
---
Stockton Statistic:

As Stockton approaches its 40th Spring Commencement and 40th year of teaching, it recently eclipsed the 40,000 milestone in the number of total degrees granted.
Since the first 290 degrees were granted following the 1972-74 academic years, the undergraduate and graduate degrees have mounted steadily. According to the most recently available records (2010 fiscal year), the College has granted a total of 41,695 degrees.
Source: Office of Institutional Research.
---