"Boardwalk Empire" Author, MSNBC Host Speak to Graduates at Largest-Ever Commencement; Campus Center Building Officially Dedicated
MSNBC Host Willie Geist admires a Stockton gift prior to giving his speech at 39th Spring Commencement.
More than 1,330 graduates - a record number - received their diplomas from President Herman J. Saatkamp, Jr., at the 39th Spring Commencement of The Richard Stockton College of New Jersey on May 7.
Two separate ceremonies took place in the Sports Center before a combined estimated audience of more than 8,000 family members and friends.

Superior Court Judge Nelson Johnson, a jurist, historian and author of Boardwalk Empire: The Birth, High Times, and Corruption of Atlantic City and The North Side: African-Americans and the Creation of Atlantic City, spoke during the morning ceremony. Willie Geist, host of "Way too Early with Willie Geist" and co-host of "Morning Joe" on MSNBC, spoke to the afternoon graduates. Valedictorians were Danielle Nobilucci, of Atlantic City, a literature major; and Trisha Sharma, of Orange County, California, a biology major.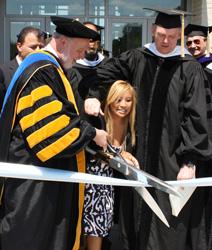 From left, President Herman J. Saatkamp, Jr., Student Trustee Janet Ta and Board of Trustees Chair Stanley Ellis cut the ribbon to officially open the new Campus Center
Between the morning and afternoon exercises, President Saatkamp and Board of Trustees Chair Stanley Ellis presided over the ribbon-cutting ceremony to mark the official opening of the Campus Center. A large group of onlookers gathered at the building's main entrance on a beautiful spring day and watched Dr. Saatkamp, Ellis and Student Trustee Janet Ta perform the ribbon-cutting duties.

The Campus Center consists of 154,000 total square feet of space, making it the largest single building project since the main campus opened in 1971. The building was designed in concert with the College facilities master plan and academic mission. It brings student-focused business offices such as Admissions, Bursar, Career Services, Student Records and Veteran Affairs all under one roof for "one-stop shopping." The offices relocating to the Campus Center have provided much-needed classroom and faculty office space in the existing buildings. Special features in the new structure include offices for student organizations, new bookstore, game room and expansive food court, among many others. The soaring Grand Hall provides a dramatic "front door" to the College with a two-story black granite fireplace featuring Stockton-themed etchings.

"This building will be transformative to the College," Ellis said. "The president was very clear in expressing things he wanted to see in the Campus Center and the final result certainly lives up to his vision."

---
Stockton Gala Attracts Record Attendance to Aid Scholarships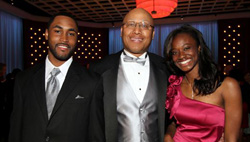 Shawn Barnes, Stockton Athletic director Lonnie Folks and Frankie Watson enjoy the Stockton Scholarship Gala.
The Scholarships were the focus as a record number of attendees gathered at Borgata Hotel Casino & Spa for the 31st Annual Stockton College Scholarship Benefit Gala on April 30. All proceeds from the event benefit Stockton scholarships.
"Scholarships are more important than ever in today's challenging economy," Stockton President Herman J. Saatkamp, Jr., said. "Our distinctive student body includes many students whose economic circumstance demand they work while they are going to school. The support we receive at events like the Gala often makes the difference to help provide an opportunity these students otherwise would not have."
More than 800 community members were on hand, and more than $500,000 was raised to benefit deserving Stockton students at the event that featured cocktails, fine dining, a silent auction and performances by singing sensation Marc Antonelli and Stockton's own Faculty Band.
Kenan Kurt, recipient of a Stockton Presidential Scholarship and president of the Student Senate, has a particularly touching story that was featured in a video shown to the guests. A political science major with a minor in Holocaust and genocide studies, Kurt's parents divorced just before his freshman year and as a result his mother lost their home. "I just want to say to the donors that every dollar counts," he said.
Currently the Stockton College Foundation and the College offer approximately 60 upperclass and transfer awards and scholarships, book awards and other forms of financial assistance to worthy recipients.
The Foundation awards scholarships to outstanding freshmen, upperclassmen and graduate
students. Recipients, determined by a selection committee comprised of representatives of the faculty, administration and Foundation Board of Directors, maintain at least a 3.0 grade point average.
"Educational access and affordability have long been a priority of Stockton's mission," Dr. Saatkamp said. "It is made possible through private donations to the Stockton College Foundation, as well as events such as the Gala and Stockton Golf Classic, the Annual Fund, and funding by the College "
"The outpouring of support in our community for this event is nothing short of remarkable," Dr. Saatkamp said. "It was an evening of great fun with a serious purpose: making a difference for our students by providing educational opportunities."
For the second consecutive year, Borgata Senior Vice President of Operations Auggie Cipollini served as honorary chair for the event. Gayle and Dr. Howard Gross served as Gala chairs. Gayle Gross is chair of the Stockton College Foundation and has served as a member of the Foundation Board for many years. Dr. Howard Gross founded Horizon Eye Care.

---
Hughes Center Seeking Nominations for Civility in Government Award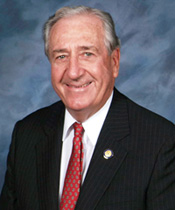 William J. Hughes
Stockton's William J. Hughes Center for Public Policy is seeking nominations for its inaugural Civility in Government and Politics Award. The honor will be presented at an annual dinner reception at Stockton's new Campus Center, on Tuesday, September 13, 2011. It will recognize an elected or appointed New Jersey official deemed to have conducted the public's business with civility and respect for others. Nominations are being offered by a blue ribbon nomination committee and those solicited from more than 100 leaders in government and academia. Public nominations are appreciated as well, according to Hughes Center Executive Director Sharon Schulman.
All net proceeds from the award dinner will be dedicated to the development of scholarships for deserving students enrolled in the College's Washington Internship program.
"After conducting lectures and events centered on the concept of civility in government and politics, we thought there should be an occasion to honor those who are engaged the right way," said Schulman, a member of the nominating committee.
The panel also includes Ambassador William J. Hughes, former U.S. Ambassador to Panama and longtime area Congressional representative and namesake of the Hughes Center; Honorable James Saxton, a former longtime Congressional representative; Jennifer Young representing Verizon; Joe Donohue, deputy director of the New Jersey Election Law Enforcement Commission; Dr. David L. Carr, professor of political science and senior fellow, William J. Hughes Center for Public Policy; and Evelyn Ingargiola, student representative to the Hughes Center Steering Committee.

"The current public commentary bemoans the rise of extreme partisanship and lack of respect for opposing points of view. Attention-getting sound bites have become substitutes for real discussions about policy, and this gets in the way of good government," explained Ambassador Hughes. "We must join the discussion by offering positive examples of individuals who vigorously pursue their public goals, but do so without rancor," he said.
According to Schulman, nominations are being sought for individuals who are currently, or have been, in the public sector of New Jersey who consistently demonstrate a majority of the following characteristics while attaining the position and fulfilling his/her fundamental duty to represent constituents:
• Political discourse is based on facts.
• Respecting others' opinions without regard to political association.
• The government official and all representatives of the official (i.e., campaign and office staff) exhibit truthfulness as exhibited by candor, forthrightness and honesty when communicating with the public.
• Is inclusive in decision-making and policy development.
• Consistently exhibits behavior that is respectful and abstains from disruptive and/or abusive behavior.
• At all times acts with dignity, decency and courtesy.
• Strives to resolve human and societal problems in a rational, peaceful and efficient manner.
• Strives for excellence.
• Recognizes the importance of cross-political party cooperation and encourages and practices actions that foster cooperation among political ideologies.
To nominate someone for this prestigious honor, simply download and submit the nomination form at www.stockton.edu/hughescenter. All materials must be received by Wednesday, June 15, 2011, at 5 p.m.
---
Legacy Fund Bike Ride Set for June 18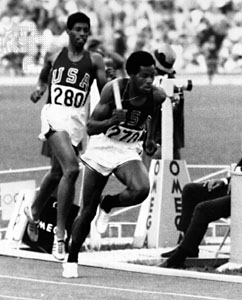 Larry James (left, no. 280) hands off the baton to Lee Evans enroute to a gold medal in the 400-meter relay at the Mexico City Olympics in 1968. James, the longtime Stockton Athletic Director and Dean, is the namesake of the Third Annual Legacy Bike Ride.
Bicycle enthusiasts from novice to expert are invited to take part in the Annual Legacy Bike Ride at Stockton on Saturday, June 18, 2011. The ride, to be held rain or shine, begins at 8 a.m. at the Stockton Sports Center.
"This event is eagerly anticipated by those of us in the riding community as well as by first-timers," said Arnaldo Cordero-Roman, associate professor of Spanish and one of the event organizers. "With distance options of 14, 32 or 62 miles (metric century) there is something for everyone."
All proceeds from the event benefit the G. Larry James Legacy Fund supporting scholarships for deserving students. The late G. Larry James, a gold and silver medalist at the 1968 Mexico City Olympics, was a longtime Stockton Director of Athletics and Dean.
Registration fees or pledges totaling at least $25 are required to take part in the ride. Minors with a registered adult are $15. For late registration after June 10, the cost is $40.
"All distances are out and back from Stockton and feature scenic, flat, low-traffic courses through New Jersey's scenic pinelands," Cordero-Roman said.
For more information on the Legacy Fund Bike Ride, please call the Office of Event Services and Campus Center Operations at 609-652-4706. Event updates and photos will also be posted on the Stockton College G. Larry James Legacy Fund Facebook page.
---
Stockton's "Jersey Shorecast" Projects Improved Economic Outlook for Region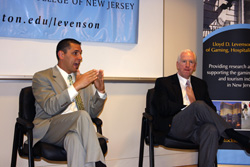 Stockton Professor Dr. Brian Tyrrell (left) makes a point as George Lynn looks on during the Jersey Shorecast
Gasoline prices may be volatile and unpredictable, but that shouldn't stop the 2011 tourism season from being a successful one, according to a panel of academic and tourism experts at the recent "Jersey Shorecast" program presented by the Lloyd D. Levenson Institute of Gaming, Hospitality and Tourism of The Richard Stockton College of New Jersey. The event took place at Stockton's Carnegie Center in Atlantic City.
"In 35 years of tracking gas prices, they have ticked up 18 times and ticked down 17 times, so who knows what will happen this year? We really can't predict," said Dr. Oliver Cooke, associate professor of economics at The Richard Stockton College of New Jersey. "Nevertheless, consumer sentiments, a downward trend in unemployment and many other indicators are pointing to an upturn (in overall business at the shore)."
Cooke's research was in agreement with the other expert panelists.
"The consistencies of positive signs we are seeing make it hard to deny the economic recovery will continue," Cooke said.
In addition to Cooke and Stockton colleague Dr. Brian Tyrrell, associate professor of hospitality and tourism management studies, the panel included representatives of chambers of commerce and the former head of one of the region's largest employers). The event drew a large contingent of local business people, government officials and news media. Michael Busler, associate professor of finance, finance track coordinator and a fellow at the William J. Hughes Center for Public Policy at Stockton moderated the event.
"Parking revenues, rentals, hotel accommodations and beach tag sales -- all strong indicators of what kind of season we expect to have -- are way ahead of last year's pace," said Michele Gillian, executive director of the Ocean City Chamber of Commerce. She said Ocean City did not have as bad a year as was predicted in 2009, had a strong year last season and expects even bigger things in 2011.
Gillian attributed Ocean City's success to hosting more than 250 special events, target marketing the town's large segment of owners of second homes and "pushing the brand" of family-friendly attractions on the island. "Clean and safe is a message we put out to families, and making sure we have something special for families to do each and every day," she said.
Lori Pepenella, director of destination marketing for the Southern Ocean County Chamber of Commerce, said the situation was much the same for the businesses she represents on Long Beach Island. "Last year we were packed most weekends, which are starting earlier now," she said. "From Wednesdays through Sundays, what we would normally consider 'day-trippers' are a consistently strong group of visitors for us."
Pepenella, Gillian and Vicki Clark, president of the Cape May Chamber of Commerce agreed that gas prices may actually serve as an impetus for shore visits. "We have always been a 'drive-to' market," Clark said. "We have the largest concentration of seasonal homeowners in the state, the largest concentration of campgrounds, and a loyal and faithful customer base."
Pepenella added that gas prices are not a deterrent despite a geographically divided customer base. "Because we are a little further to the north, we draw from the New York area and north Jersey as well as from the southern part of the state," she said, "and they are all heading to our beaches." Gillian added that despite the best marketing efforts, the "three" most critical elements to a successful season were "weather, weather and weather," she joked.
George Lynn, representing the Greater Atlantic City Chamber of Commerce and president emeritus of AtlantiCare, said constant news coverage of declining casino revenues was overshadowing positive aspects of the city and regional economy. "Atlantic City has kept its customer base of 30 million visitors per year," he said. "They may not have spent as much or gambled as much in recent years, but they are still coming back. Retail and restaurants are reporting business is good."
He added that Atlantic City's efforts to provide diverse new entertainment offerings were working in the region's efforts to keep the visitors coming. He referenced a rodeo at Boardwalk Hall, minor league hockey, the Atlantic 10 basketball tournament, and a rock festival at Bader Field featuring the Dave Matthews Band as examples of this.
"We are still within a tank of gas for more than 35 million potential visitors," Lynn said. "With gas prices going up, it is easier for many people to swap destinations and come here as opposed to getting on an airplane."
---
Stockton Statistic:
The 2010 student retention rate at Stockton exceeds national averages by a wide margin. In the most recently available numbers, Stockton retains 87 percent of its students, as compared to 76 percent for public colleges and universities nationally. Stockton also boasts a 2010 retention rate of 92 percent for its Educational Opportunity Fund students.
Source: Stockton College Office of Institutional Research
---