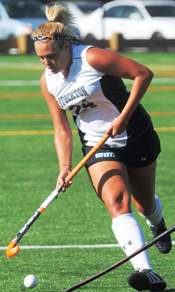 March 14: Stockton Earns NFHCA Academic Honors
Nov. 3: White & Leadbeater Earn NJAC All-Conference Nods
Sept. 12: Stankiewicz Named NJAC Rookie of the Week
VIDEO: 2011 Season Preview with Head Coach Michelle Andre
The Stockton field hockey team had its best season ever and rewrote the school record book in 2011. The Ospreys set a team record for wins with nine, posted their first winning season in school history with a 9-8 record and broke many single season and career marks for scoring. Stockton set new single season team marks for goals with 51, assists with 38 and points with 140. In her fourth season at the helm, head coach Michelle Andre put the Ospreys on the right track with a young squad that included just one senior.
The lone senior was Nancy White who finished her outstanding career with an NJAC First Team nod. White collected her third consecutive all-conference selection after being named NJAC Honorable Mention the previous two years. White scored a career-high nine goals and dished out six assists for 24 points. Her point total was the fourth-highest season total in Stockton's nine-year history and her 47 career points rank her third all-time at Stockton. White's career totals of 18 goals and 11 assists also rank third on the Ospreys' all-time scoring list.
Joining White as an NJAC honoree was sophomore Alicia Leadbeater who was selected NJAC Honorable Mention. Leadbeater had a breakout season, leading the team in assists with 11 and points with 31, both single season records for Stockton. Her 10 goals were second on the squad. Leadbeater is quickly making her mark on the record book at Stockton. In addition to the single-season records for assists and points, her goal total this year stands as the third-highest ever for the Ospreys and her 37 points in just two seasons now ranks fifth all-time in Stockton history.
Sophomore Susie Balidemaj tallied 12 goals for the second consecutive season and now has 24 in her career, tying her for first all-time at Stockton. Her 29 points this season, the second-highest total in program history, moved her to the top of the career points list at Stockton with 56. Fellow sophomores Jenny Carpenter and Megan Irving made big contributions this season as well. Carpenter scored six goals while Irving tallied three goals and nine assists for 12 points.
Freshman goaltender Liz Stankiewicz was solid in net as she made 101 saves this season and was named NJAC Rookie of the Week on September 12. Sophomores Stephanie Reichardt and Sarah Walsh contributed three and two defensive saves respectively. Juniors Susanne Anzabi and Nikki Moore provided experience on defense and notched one defensive save apiece.
Stockton started the season on a high note by winning three of its first four games. The Ospreys went 3-4 in their next seven contests, with two of the defeats coming against ranked opponents Rowan and 2011 national champion College of New Jersey. Stockton rebounded with a pair of wins before falling twice, including a defeat to #8 Montclair State. The Ospreys clinched the program's first winning campaign with a 9-1 rout of Mercy College in the season's penultimate game and later finished with a 9-8 overall record.