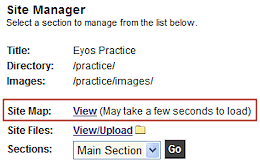 The Site Map is a central area of the eyos administration. All of your website pages, the recorded hits to those pages, and the ability to edit each page, can be accessed from the site map interface. This tutorial will identify each area of the site map screen and provide a brief description. A screencast overview of the site map is also available at the bottom of this page.



Legend:

-
Indicates the name of the website you are viewing
-
Indicates the page title of a web page in your site
-
Indicates the number of visitors the page has received
-
Use this link to edit the selected page
-
Indicated section name with option to add a new page to the website.